Weired contemporary art installations in a former air-raid shelter – this is Berlin!
After you'll have entered the Boros Bunker, it's heavy door will slam shut behind you and you'll enter another world. There is no mobile phone connection possible because the walls are just too thick. So you'll have a lot of quiet and be able to focus on the art inside!
The bunker has an area of 1000 m2 and is 18 metres high; its walls are up to three metres thick. Initially there were 120 rooms on five floors, now partly enlarged or combined to function better as an exhibition ground.
The bunker for itself has a fascinating history: It was built by forced labourers in 1942 as an air-raid shelter under supervision of Albert Speer, the "General Building Inspector for the Reich Capital", to shelter up to 3,000 Reichsbahn train passengers. The Red Army took the building in May 1945 and transformed it into a prisoner-of-war camp. From 1957 it served as storage for dry and tropical fruits, which were hard to obtain in East-Germany. In 1992, it was turned into a hardcore techno club, the famous "Bunker".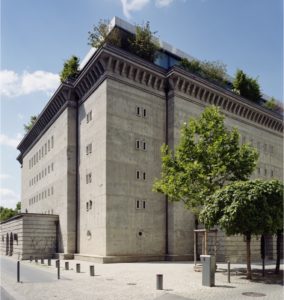 In 2003 Christian Boros, a German advertising agency founder, purchased the bunker for his private collection of contemporary art. He subsequently had architects convert the building into 3.000 m2 exhibition space and build 450 m2 glass-walled penthouse on the roof. Five years later the first exhibition of works from the collection started: "Boros collection / Bunker #1". The curation is changed every 4 or 5 years. Artists shown in the present exhibition Boros Collection / Bunker #3 are: Martin Boyce, Andreas Eriksson, Guan Xiao, He Xiangyu, Uwe Henneken, Yngve Holen, Sergej Jensen, Daniel Josefsohn, Friedrich Kunath, Michel Majerus, Fabian Marti, Kris Martin, Justin Matherly, Paulo Nazareth, Peter Piller, Katja Novitskova, Pamela Rosenkranz, Avery Singer, Johannes Wohnseifer.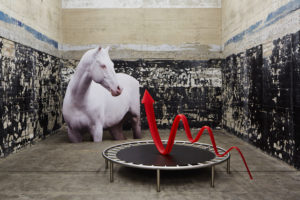 A visit is special even for people, who are not generally interested in contemporary arts for various reasons: The peculiar atmosphere of the former air-raid shelter, which is still looking like that in the inside too. And the unique combination of an building with it's specific historical relevance and the art work beeing represented there. Finally the curational effect to have a lot of times only a single piece of art being represented in one room – a convenient change compared to museums where dozens of paintings are paving every wall. Here in the bunker you'll find a rather private atmosphere enabling a personal encounter with every work of art!
Due to safety regulations, the Bunker can only be visited in groups of up to 12 people accompanied by one of the in-house guides. The tours take place from Thursday to Sunday. The admission fee is 15 Euro per person / reduced 9 Euro. A visit to the collection is only possible through an advance reservation through the website or through a private viewing. Special tours can be booked daily for individuals and private groups. The price for a special tour is 200 Euro.
Enjoy!
Posted by our guide
Andreas Foerster
Pictures:
Foto TOP: NOSHE, Art: He Xiangyu
Foto 2: NOSHE
Foto 3: NOSHE, Art: Katja Novitskova
Foto 4: NOSHE, Art: Yngve Holen