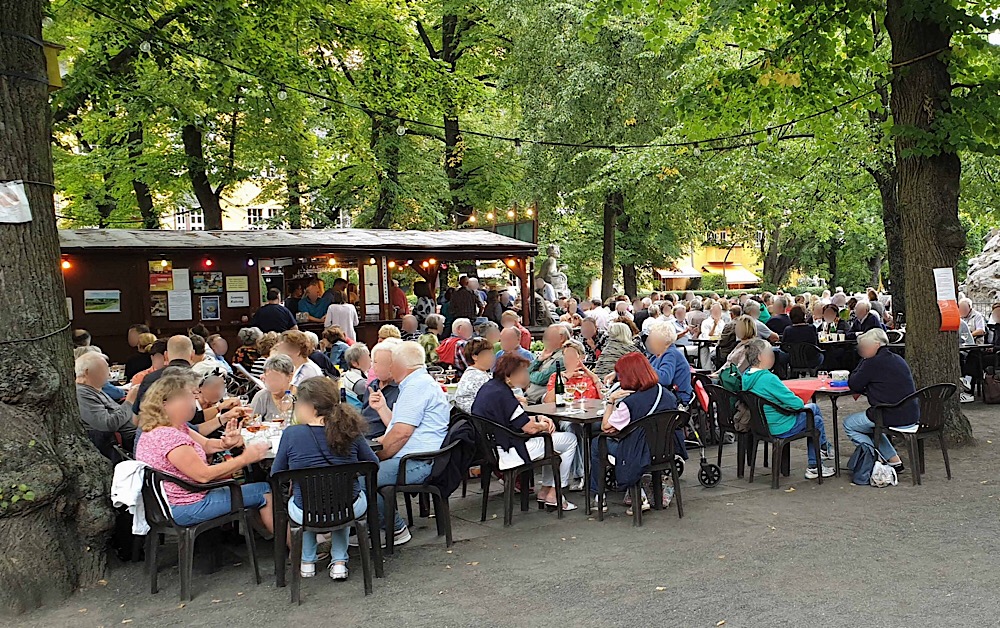 BYOF on Rüdesheimer Platz
The summer holds a very special event in my neighborhood: The Wine Festival – properly known as Weinbrunnen (the wine well) – on Rüdesheimer Platz in Berlin-Wilmersdorf, just south of the city center west.
It is a very unique concept for a number of reasons. First of all, it does not just go on for a week or ten days, but for a full four months, starting from mid-May each year. Three different vintners from the Rheingau region in Hessen take turns in furnishing the beverages, first and foremost of course the Rheingau wines – mostly Riesling, a white wine.
You buy the wine – per glass or per bottle – at a little booth on a terrace overlooking a park (TOP picture). There is ample seating capacity on this terrace, but still not enough for the demand on a warm summer evening. What do the locals do? They bring their own chairs and tables and set them up right in the park, beneath the Siegfried-Fountain, benignly looked upon by the sculptures of the Rhein and a wine-queen.
Alright, it's time to unravel the mystery of the acronym in the headline: While many are certainly familiar with BYOB (for the uninitiated: bring your own beer/booze/bottle) the F in this one stands for food. Customary perhaps at parties, it is quite uncommon, at least in Germany, at public festivals. But it is this feature that makes the wine festival on Rüdesheimer Platz so convivial. People will arrive with baskets filled with all kinds of food, dishes and, it is a cultured neighborhood, with table cloths! Don't let this scare you off though, they are optional. Even coming unprepared food-wise is not a disaster, there is a delicious pizza take-away just around the corner.
The neighborhood, of which the square is the center, is less visited, but not less visit-worthy, your typical off-the-beaten-track site. Developed by Salomon Haberland in the early 20th century, the settlement combines elements of the Garden-city with English country style houses. In contrast to most Berlin streets, where houses rise straight up from the side walk, in this area there will typically be a small garden in front.
So, small wonder that the festival is in its 53rd year in 2019. Open from three in the afternoon until nine thirty at night, your thirst for good wine will be quenched every day of the week, except Sundays (a concession this year to the residents of the square). If you're planning a trip this year, September 12 will be the last day. And surely we will see the next festival next year!
Posted by our guide
Harald
Pictures: Harald Reudelsdorf