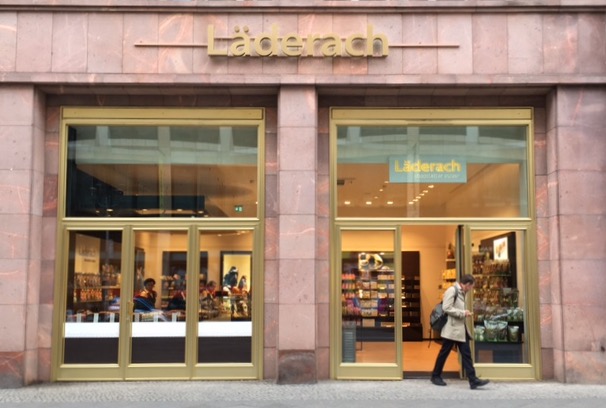 The sweetest stroll of Mitte
What serves well as the most tasty and effective energy supply when traveling? Not just any child will tell you straight away: "It's chocolate, stupid!" And as urban adventures consume your energy, it's just a short stroll to reach some of Europe's finest sources, readily satisfying any chocolate-related craving.
Surprisingly, a cluster of half a dozen or so upscale providers have settled around just three blocks between Friedrichstraße and Gendarmenmarkt, right in Berlin's Mitte district.
Starting north, RITTER SPORT's colourful SCHOKOWELT located at Französische Straße 24 offers a family-style chocolate-experience. Be it for breakfast (from 10:00 a.m.) or to have fun creating your own chocolate concoction, this flagship of the famous German brand –known for the square shape of its products – provides a memorable sweet time.
Alternatively, enter Galeries Lafayette next door and indulge in the full variety of what the French make of the cocoa bean. A basement full of culinary delights includes VALRHONA, the high-end brand created by pastry chefs for pastry chefs.
Leaving the Galeries Lafayette at Friedrichstraße (the exit right below Patrick Blanc's spectacular Vertical Gardening) head south, soon to find the recently opened store of Swiss chocolatier LÄDERACH (Friedrichstraße 181 – article top picture). A rich variety of finest chocolate offered here, and if you missed this store, there is another outlet opposite the KaDeWe in West Berlin…
Right at the next corner at Friedrichstraße 63, the inventor of the Praliné, Belgian classic NEUHAUS invites you to its Berlin store. Jean Neuhaus, a pharmacist, laid the foundation in Brussels in 1857. Pralinés, with their sweet fillings, were once invented to allow people to take bitter medicine in a more soothing way. And if by now anyone should feel the need for some dental care – the "Dental Care Office" is located just above on the first floor…
Cravings for some typical German "Kaffee und Kuchen" (coffee and cake) can be satisfied by the West-German confectioner LEYSIEFFER at Friedrichstraße 68, right between Läderach and Neuhaus. Since 1909, this family-run chain of colourful cafés also offers a top rank choice of chocolate bars ranging from mulitcoloured to hot-and-spicy creations.
Grand finale anyone? The "mother" of Berlin's local chocolate industry awaits you at the corner of Mohren- and Charlottenstraße (notice the red carpet, 7 days a week!). RAUSCH – Schokoladenhaus – since 1863, this popular Berlin brand offers just all of the best varieties on the ground floor. To top it off there is a café on the floor above. Spectacular models of many of Berlin's famous landmarks, all made of chocolate (!), are displayed in the shop-windows under the awnings. So you can also just look at them, should you decide NOT to walk inside, for whatever reason 😉
Posted by our guide
Uli Welmering
Pictures: Uli Welmering