PEACOCK ISLAND – or, what makes wild boar go swimming!
Remember your astonishment, when you first learned about the geographic size of BERLIN  ?!  Berlin, having 9 times the size of Paris ! The cities of Munic, Stuttgart and Frankfurt, fitting within the city limits of Berlin and not even covering all of it´s territory !
Born and raised in West Berlin, I always like to emphasize one thing : Even with the wall running 155 km (96 miles) all around West Berlin, I never felt closed in ! Berlin is made of a vast area of, not only city scape with very different, versatile character neighborhoods, but also, of a large country site of forests, rivers, canals, lakes, two geographic and several manmade hills, all that still located within the city limits of Berlin.
Based on faint memories of childhood excursions, I was totally thrilled to recently rediscover a jewel of nature and royal civilisation, located not far from my home in Wannsee, in the South West of Berlin : PEACOCK ISLAND, the largest of several islands in the wide (very wide), lower Havel River.
All it takes is a 3 minute ferry ride onto the island and most likely you will be immediately greeted by a friendly, free roaming peacock, or two, or three….checking on the new arrivals.
In the following hours of walking ( virtually on air ! ) on the grounds of the island, it is impossible not to be casually drawn into, enchanted and enraptured by the beauty of royal pleasures, expressed through romantic landscape design, century old oak trees, meadows, a rose garden, ponds, a little footbridge, fountains, a roman country villa, pavillons, a volière (birdcage, with exotic birds), two Indian buffalos, horses and sheep, enjoying life and other small architectural treasures. Not to mention the incredible views in all directions over blue waters, sailboats, wide horizons and distant or not so distant shores.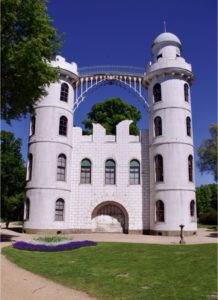 Not wanting to bore you with too many historic details, only that much : Bearing witness to the Bronze Age, the island was discovered, developed and enjoyed up from the 17th century by generations of royalties of the Hohenzollern Dynasty of the Prussian Empire. Starting out breeding rabbits (… called Rabbit Island, at that time ), an alchemist, in the attempt to synthesize gold, accidentally inventing ruby glass, replacing rabbits with the adorned, elegant and proud peacocks and entertaining a little menagerie of 14 monkeys, 4 kangaroos, 1 lion, 3 bears and 7 eagles (…which later on, all together founded the Berlin Zoo).
The 18th to 19th century pushing the frontiers, exploring the globe, led to the discovery of wild and beautiful islands in the South Sea of the Pacific Ocean. Among royals of Europe, a certain " island craze " was inspired, fancying the romantic imagination of a carefree and blissfully happy lifestyle on these " paradisiacal " islands.
It influenced everything they did in design and garden architecture, at that time. Visiting PEACOCK ISLAND, makes it easily comprehensible to follow that vision. All I can say is, it works for me !
NOW, what does all that has to do with wild bore taking a dive ?! You should know, next to 3.5 million inhabitants, Berlin also endures quite a large population of wild bore (…see all the forests above ). Well, apparently peacocks not only look beautiful, they also taste delicious ! Many years ago, a delegation of highly motivated, smart and hungry wild bore swam across Peacock Island and……
                                                                                …….never mind !  
ENJOY PEACOCK ISLAND !     I am sure you will !
Posted by our guide
Ulrich Kilian
Pictures: Ulrich Kilian