Next (unscheduled) stop: Mies van der Rohe Haus Berlin
"We're very interested in architecture and would like to see the Bauhaus in Berlin."  This was the first sentence my guests uttered, right after the introductions when I picked them up from their cruise ship in Warnemünde for a private tour to Berlin last year.
"Hold on", I thought, "architecture is not really my cup of tea. The Wall, the divided city, the Cold War, those are the things that make my personal Berlin story. And anyway, if it has to be Bauhaus, then, please, Dessau is the right location." At the time, the Bauhaus archive in Berlin was presenting an exhibition of paintings and drawings. However, this show would hardly make it on the "ten-things-to-do-in-Berlin" list so my thoughts and my reaction to my guests' request was more in the line of "don't have, not coming in either."
Luckily, it takes a while to get from the Baltic coast to Berlin, and, cruising through the rolling hills of northern Germany is as relaxing as it can be inspiring. In due course the thought popped up "why not do a little detour and enter Berlin from the North-East, which would allow for a visit of the villa Lemke, now usually referred to as the "Mies van der Rohe Haus", in the district of Hohenschönhausen. "Good thought" I went on musing, that way I'll finally get to see it myself. It had been on my to-do-list for some time, but, as it's a little off the beaten track, I had until then not managed to get there, despite having resided in Berlin for over 25 years.
What can I say, this little detour proved to be a great reward for both me and my guests:
The building is an absolute gem for friends of architecture. Its picturesque location on lake Obersee in Hohenschönhausen is suitably far enough away from Berlin's highlights to avoid crowds of visitors. The villa is a perfect example of the Bauhaus era in Berlin. Mies van der Rohe was already the director of the Bauhaus in Dessau when he designed the building as the private residence of the Lemke family in 1932/33.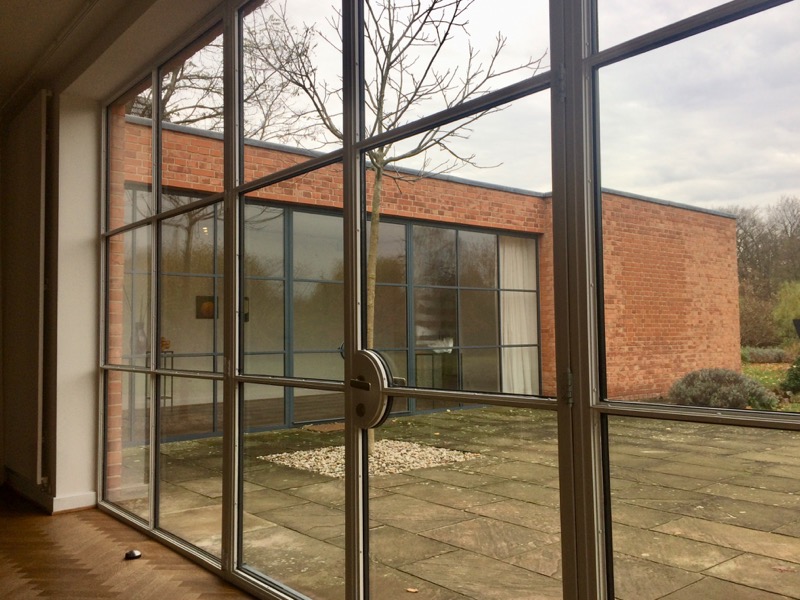 The L-shaped, flat-roofed bungalow, as well as its garden, charm with simple beauty and functionality. Large windows in the brick facades open up to the terrace. Makes one want to immediately exchanges one's somber city apartment and move in on the spot. Despite its "no-frills" attitude the building exudes a comfy warmth. At least in my opinion, this makes it much more modern than the concretes monstrosities dubbed "townhouses" currently sprawling throughout Berlin.
Unfortunately, my dream of moving in right away has been thwarted: since 1999 the Association of Friends and Sponsors of the Mies van der Rohe Haus manages the premises. It was listed as a national heritage site in 1977. Today it is used as a venue for special exhibitions and the association offers tours for the interested public. A visit to the villa and the adjoining garden is free of charge. During the opening hours a member of the association is always on hand to answer any questions.
The visit was a great success with my guests. I didn't manage to turn their good mood even when I related my very own heart-wrenching East-West story at the Wall Memorial.
Later, at the end of a beautiful day, we hugged each other goodbye. A colleague of mine drove them back to the ship. What did I do? I took out my calendar, scrutinized it carefully to find out just how soon I might again take some guests to the Mies van der Rohe Haus!
Info:
Recommended reading:
Wita Noack
"Mies van der Rohe SCHLICHT UND ERGREIFEND Landhaus Lemke"
including a visual essay by René Müller, German/English
Verein der Freunde und Förderer des Mies van der Rohe Hauses e.V. (publisher)
136 pages, 49 images, 160 x 233 mm, hardcover
ISBN  978-3-947045-02-0
20 Euro
Available on site.
Posted by our guide
Jochen Wiesenberg
Pictures: Jochen Wiesenberg with the kind authorization of "Verein der Freunde und Förderer des Mies van der Rohe Hauses e.V."