"Die Henne" – a unique culinary Berlin experience
" WHAAOH, … YOU´RE FROM BERLIN ??! … EVEN GREW UP THERE ??! I HAPPEN TO VISIT SOON ….. WOULD YOU GIVE ME A RECOMMENDATION FOR A REAL BERLIN-STYLE, ORIGINAL, UNIQUE, NOT TOO EXPENSIVE AND FUN PLACE TO EAT ??! "
Having spent a considerable part of my life on the other side of the big ocean, this was one of the most frequent asked questions, put to me "a 1 000 times", during some first-time, small talk conversation.
Never once, I needed to think twice and the best part of it, still today, I would give exactly the same answer :
" Go to >> die " Henne " / the " Hen " << in the bohemian area of Berlin – Kreuzberg on Leuschnerdamm 25 / corner of Waldemarstr, ( # +49-30-614 77 30 , closed on Mondays / www.henne-berlin.de ), …… Satisfaction guaranteed !!! "
The location is in the very center of " Cold War History " ( … then again, that´s true for almost all of Berlin ), about 30 feet from the former Wall, where half of the sidewalk belonged to West-Berlin, the other half belonging to East-Berlin, with an outstanding view over the wall, the so called "death zone" of electrified barbed wire, land mines, tank traps, ditches, guard towers, German shepherd watch dogs and heavily armed East-German border guards, looking at you through binoculars …. the whole scene brightly lit at night.
That´s where my favourite restaurant was and is !
Once an ordinary "Eckkneipe" / "Corner Pub" ( talking the 19th to 20th century, there was one on every corner of the block, at least 4 all together ), serving local beers and spirits, as well as hearty Berlin food, the " HEN ", living through more than a 100 years of ups and downs of Berlin history, despite changing owners, confidently maintained it´s local charme and relentless hospitality to everyone, every day of its existence ( from what I witnessed ) up until now.
Don´t expect a fancy place. You might have to share a table with other people in good moods, old and young, from all levels of society. That is part of the fun !
NO, it´s not too touristy. NO, it´s not at all expensive, rather the opposite.
Also, don´t expect a variety of food. Besides the ambience and the " Berlin Experience ", culinary-wise, the one and only reason you go there is, >> The incredibly delicious, crispy & tender, after a "secret recipe" prepared, milkfed, organic chicken, known as :
" MILCHMASTHÄHNCHEN " / " MILKFED CHICKEN " !!! <<
Best eaten with your hands !
Choice of side orders : White Cabbage Salad / Potato Salad / homemade bread …
I recommend all of it !
Various delicious local beers from the barrel and exquisite spirits ( plum, pear, apricot, cherry etc.) will help you maintain and elevate your mood during a sometimes little longer wait for the food, when the place is crowded. Only so many chicken fit in the oven at a time.
But don´t worry, the service is fit, well organized and utmost friendly.
As we say in Germany : " Vorfreude ist die schönste Freude ! " ( Looking forward and longing for something you desire badly, is the best part of it ! )
Talking about the history of the place would take more time than you´re probably willing to spend right now. Only so much :
JOHN F. – " Ich bin ein Berliner " – KENNEDY was invited to visit the " Henn " on the 26th of June 1963. The letter of apology, sent by his office, that he is unable to make it during his
8 h – stay in town, is to be seen, wood-framed, on the wall behind the bar.
For further information, a sympathetic, little book on "Henne´s" 100-year history with lovely photographs and anecdotes can be looked at and purchased on location.
NOW, if you intend to spend an evening at " HENNE " and possibly having an incredible time with long lasting memories, you, at the same time might be one step further ahead on the road to be able to say :
" ICH BIN EIN BERLINER ! " / " I AM A BERLINER ! "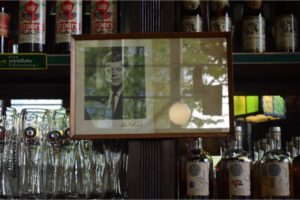 Posted by our guide
Ulrich Kilian
Pictures: Ulrich Kilian