The Floating University Berlin – space for ideas
Not so long ago Berlin was still the place where anything goes: a city bombed in a world war and separated in a Cold War had, after overcoming those, tons of unused space, empty lots and buildings which became the playgrounds and labs of those that enjoyed hanging out in the city. No jobs, no investors but tons of possibilities to create, try out, party, meet people and enjoy freedom. This situation pulled in tenthousands of an international crowd that enjoyed the uncommercialized and pretty unregulated atmosphere of the city.
Almost 30 years after the fall of the wall and a financial crisis later, the picture has changed: real estate investors are buying up the whole city looking for a great return on their money they cannot get somewhere else anymore. More than just tech companies are moving into the city to make use of this enormous talent pool that is enjoying living here. Unemployment is at an historic low, the city is growing by 40.000 people a year, fancy condo buildings are spreading up on any empty lot they still can find – welcome to boomtown Berlin in 2018.
And what happens to the creative places, the lowcost spaces bringing up great ideas and special experiences? They have a hard time and are being pressed by big money, lawyers and regulators so that more and more have to close down or at least move to a spot out of the center. These dynamics have become so obvious in the last five years that the young Berliners are fighting back. Cases like the referendum won against the mainstream development of the big airfield Tempelhof or the return of the Holzmarkt property to a creative cooperative show that Berliners (meaning people living in Berlin) do care. They don't want their special city turned into a standard, commercialized western city within a blink of an eye. To save these spaces they just need to get much more clever and organized – with many supporters including good lawyers.
That's why I was happy to discover one of these projects recently, just in my neighborhood. Not far from the above mentioned airfield behind a fence I never cared much about before.
Turns out back there is a big water bassin once built to collect rainwater. Hidden by the little garden plots around them and unnoticed by all the people passing by over the years a unique biotope developed, a true natural-cultural oasis. And that became now the perfect site to set up an utopian structure – the so called "Floating University Berlin".
You come in there and see strange looking structures sitting in the water. You wander over gangplanks to reach these man-made things of scaffolding, wood and plastic. You see plants growing in between the scaffolding. Plastics and tubes having water flow in an uncomprehendable system. A wind wheel like from a dystopian movie turning something. And in between wooden meeting rooms, a kitchen, a bar and undefined spaces. And you wonder: is this art, is it science, is it architecture? What is it?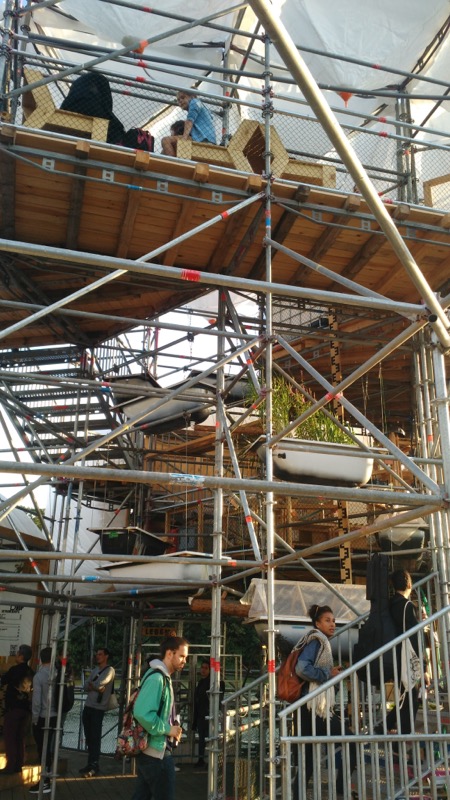 This is "Floating University Berlin", a project by raumlaborberlin, which they call an inner-city offshore-lab for visions of urban living. An experiment to question routines of urban life. Supported by many partners they created a space where students and scientists of more than 20 international universities, artists from around the world and local experts can jointly learn and network.
They built a campus: classrooms and workshops and an auditorium. A lab-tower with a performative water filtration system (meaning you can see the water flowing from one bathtub down to the other and see the different layers of natural filtration at work). A "discursive" kitchen, a bar as protest generator and a fast food plantation. They want to experiment with new forms of teaching. And in the open weeks they invite the public to take part in the workshops, lectures and performances.
You wonder, does all this make sense? Isn't it just another utopian dream, some students having a good time planking together all the metal and the wood in the summer months? All these nice ideas of collecting and reusing water, reusing food and materials, designing a new way of life, will they not all turn out impractical? And once the money is gone the project will be quickly over and leave nothing but some empty beer bottles behind?
But it all comes truly alive when there is an event, a lecture, a class or a performance. When there are real people meeting, exchanging ideas. Like I happened to witness on this day. Then the whole creative power is focused on a topic, new ideas are quickly shared, questioned and further developed. People inspire and get to know each other, they connect to work together in the future. So this is a place where, maybe by pure chance, an idea comes up or people connect, that might have a lifechanging effect in the future.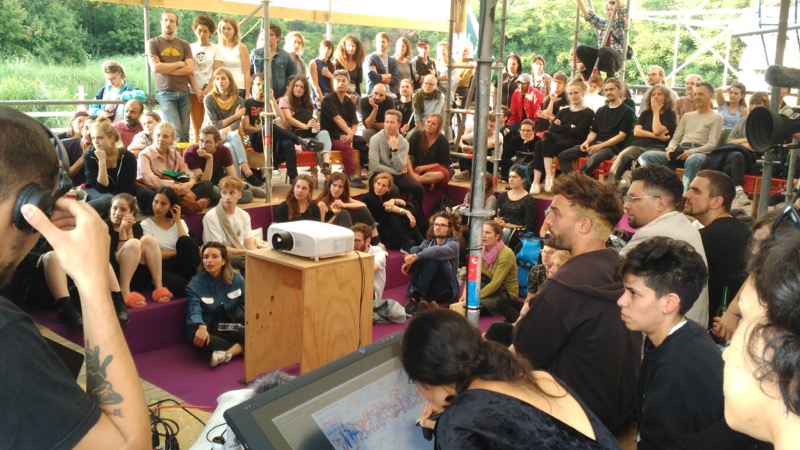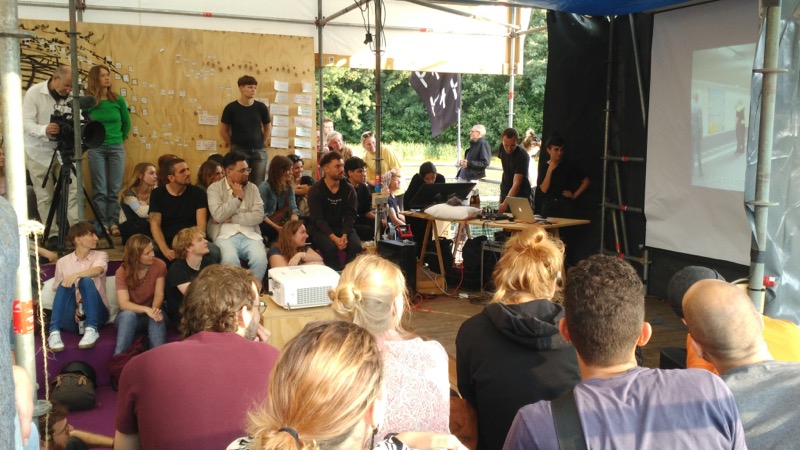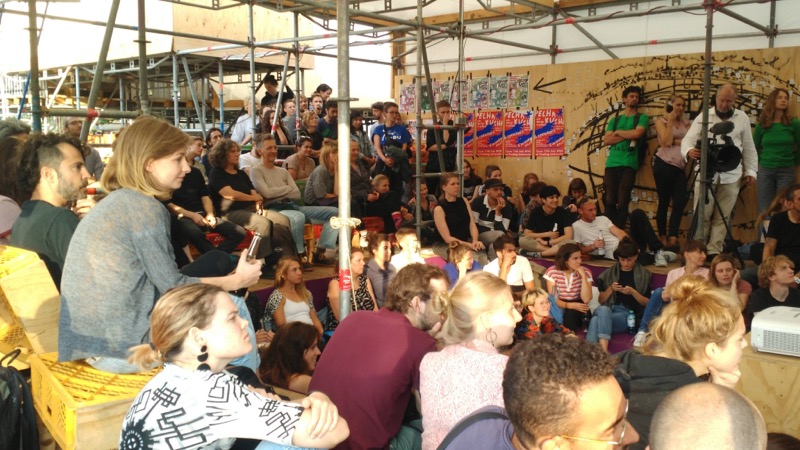 So we need these spaces to get new ideas. Berlin needs these spaces, the world needs these spaces. This is where the Berlin city development officials should look and see what is happening there and why Berlin had become such a draw from all over the world. We don't need another city only filled with boxes and advertisement.
If you want to think out of the box it is good to leave your box and go to a space you are not used to. Even if this space is just floating on some muddy waters.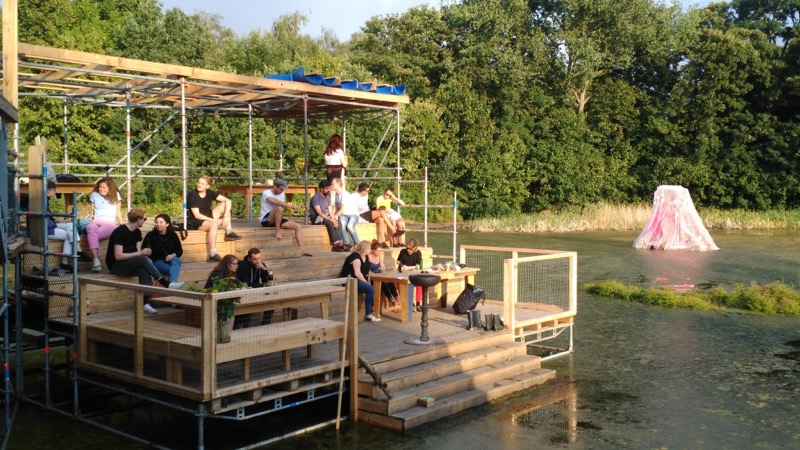 Find the program of Floating University Berlin at www.floatinguniversity.org
and enjoy discovering the unusual spaces of Berlin!
Posted by our guide
Lars Jokubeit
Pictures: Lars Jokubeit